I currently keep my earrings on my bedside lampshade, I know this sounds weird but it is a very handy and a sturdy place to hang them so they don't get tangled. Although I have such a ridiculous number of earrings the the lampshade is becoming very full and a little unstable, so I had to come up with a different way to store them. I had a quick browse around the internet for tutorials and a lot of people were using old picture or canvas frames filled with thin mesh or chicken wire to poke the earrings through. I also found designs where they had covered the frame in fabric or paper and screwed hooks into the border to hang bracelets and other pieces of jewellery off. I love this printed paper design by
Decelerate,
you can purchase the
tutorial
over at Etsy.
I really wanted to incorporate the earring hanger as well like
this
tutorial I found by
Vanilla Joy
.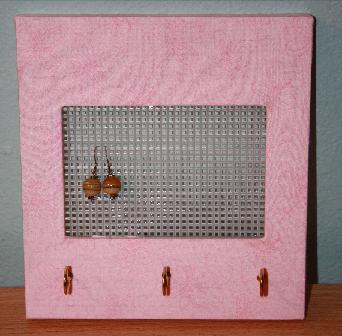 So to compromise I plan to make a collage of frames, a couple for earrings and a couple for everything else, all in different sizes and fabrics. (I have a quite a large collection of cheap canvas' which I used to decorate my uni houses with). I think this could make a very nice statement on my wall although I may have to move some of my current art around to make it fit (Hopefully this won't be a problem when I have my own house and lots of wall space!!)
I already have the perfect fabric from Amy Butler which I bought a while ago to make ducks, but I can always get more. I don't like the plastic mesh showing so I planned to cover it with fabric, but unfortunately the cotton I had was far too fine and the earrings wouldn't fit through. So instead I popped to the market and picked up a fine weaved hessian, I thought I could embellish it with the other fabrics to add some colour. So watch this space!!
Whilst in the market the fabric lady was knitting a ruffled scarf, it was beautiful but looked very complicated. She corrected me, in fact the wool made by a Spanish company called Katia comes already netted, so it is very quick and easy to knit supposedly. I just had to get some and Graeme picked out the sea blue colour. Now I just have learn how to knit again and this is a bit different to normal as you knit through the edge of the wool, it all seems very confusing but that's what Mum's are for!!
This is what the final result will hopefully look like!!